Simple Fit Cellular Shades
There is no window treatment easier to install than Simple Fit cellular shades. Naturally cordless and child-safe, Simple Fit cellular shades are available in a variety of styles and will also help insulate your windows to cut down on heating/cooling costs.
C$110.95 C$55.48 you save 50%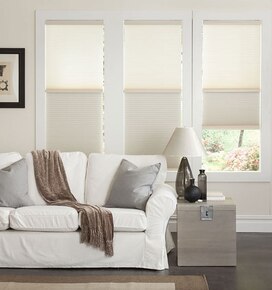 C$265.95 C$132.98 you save 50%
customer reviews for simple fit cellular honeycomb
"Excellent!"
By KM from Wasaga Beach, ON
I was a bit skeptical about buying blinds online given the fact that you can't really see the product so you can only guess as to the quality and look. Not to mention making sure your measurements are correct. So I wasnt sure what to expect. Needless to say, I was very pleasantly surprised by the quality and look of these blinds. They came packaged nicely with clear, thorough instructions. But really it is just four screws as the blinds snap into the holder. So installation is just making sure that it is straight. I looked at other online blind stores and no one had the TDBU feature at this price. Great value. Great product. Would buy again.
View this product
"Not for RV's. Broken mounting hardware. "
By Des from Edmonton, AB, Canada
These are really nice shades and I hate to leave a poor review, but while I was told several times by the three sales reps I spoke to that these were designed and named as RV shades, and are quite a bit more expensive that the other types/styles, with no option for refund once purchased. Problem is, they are not for RV's. There is no way to secure the shade so it doesn't bounce around and damage stuff including itself while travelling. The bigger issue is, I asked all three sales reps I had to deal with, how there were secured, and while they assured me they were secured and designed for RV's, they couldn't describe the method or securing bracket design. The final sales rep even got curt with me, when I asked for a better description how the pulled down shade was secured. The mounting screws are too long for RV walls, definitely too thin to hold the weight, and look like they are long enough to pierce through the outside wall. Not good at all. The packaging was not good either and arrived damaged, with mounting screws and brackets nearly falling out. One of the brackets arrived broken. Nice shades, disappointing purchase and experience.
View this product