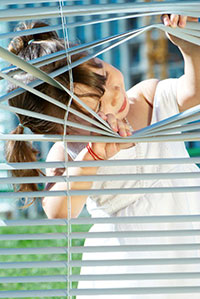 Prevention is Key
Many of the most serious and common dangers to children can be found in the home. The Center for Disease Control and Prevention (CDC) reports that 9,000 children die from injuries sustained in the home each year - that's 25 children per day, or one per hour.
The most disheartening fact about these statistics is that many of these injuries or deaths could be prevented if parents were aware and educated on the potential household dangers that can threaten the safety of their children.
A Comprehensive Child Safety Guide
At Blindsgalore, we're committed to raising awareness about children's safety. We have compiled this Child Safety Guide to help parents identify and avoid common dangers and at-home accidents. We'll walk you through common threats to children's safety. In addition, we will also share a useful checklist that parents can utilize when performing a child safety walk-through of the home.
So let's get started...
The Living Room
As its name implies - the living room is for living. This is where your kids play, where the family spends time together, and where life happens. It is crucial to keep this central and important room safe for kids. Tragedies can happen in an instant - a little forethought and preparation can help prevent injuries and accidents.
Furniture Can Cause a Serious Concussion
Furniture can pose a serious threat to your children, especially as they are learning to walk. The CDC estimates there are nearly half a million emergency room visits each year for children with head injuries, many of which are caused by falling on or into furniture.
Below is a graph of the injury rates, by cause, for a group of 100,000 children between the ages of one to four from 2001-2006, as published by the CDC. As the data shows, falls are a significant cause of injury in this age group.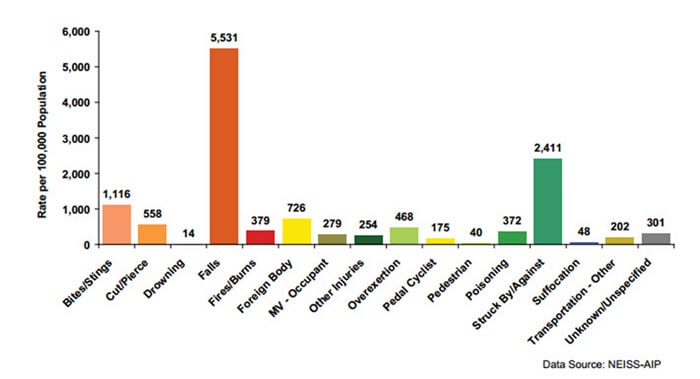 There are a few things you can do to help avoid these injuries:
Keep furniture with sharp corners away from your children's activity areas
Fit the sharp or hard edges of furniture and fireplace hearths with bumpers that will cushion your children in the event they crash into the surface.
Amy Chezem of Juvenile Products Manufacturers Association (follow JPMA on Twitter) has a simple but effective method for baby proofing a living room. Amy recommends that parents get down on their hands and knees and examine the environment the way their baby would. This is an effective activity for both mothers and fathers, especially as males and females tend to look and inspect different aspects of the home, and safety measures in general.
Window Blinds - The Serious Danger of Cords
Decorating for a newly arrived child, arranging the perfect play area, designing a creative bedroom - parents want to create the most beautiful and stimulating environment for their children. Focused on style and design, parents can miss the very real danger that fabrics, curtains, and blinds can pose for their children.
While blinds, shades, and window coverings can add beauty and sophistication to a home, they also introduce a significant and serious threat to the safety of children. The Consumer Product Safety Commission has stated that window coverings with cords are one of the top five safety hazards in a home. On average, every month, a child between the ages of 7 months and 10 years old will die due to strangulation by window blind cords. The CPSC has instituted multiple product recalls, equally more than 5 million window coverings, after corded blinds resulted in the deaths of children. Injuries and deaths sustained in the home are devastating tragedies, leading parents to question what they did wrong and how all their good intentions still lead to the death of their child. This shattering experience can be prevented through education about the dangers of window coverings and specific precautions to protect your loved ones.
The safest window covering is one that has no cord at all. When possible, install cordless blinds and shades in the home, especially in areas where children spend most of their time. Bedrooms and playrooms should be given special attention, though all windows and their coverings present a risk.
Replacing every window covering in the home may not be an option for all families, but there are still measures that can be taken to make your current coverings safer. The Window Covering Safety Council offers free kits to retrofit older blinds to meet more stringent safety standards, available at www.windowcoverings.org. Adding cleats for cords to wrap around, shortening cords, and cutting drawstrings with loops are just a few of the measures suggested by the WCSC. However, all of the efforts to make corded blinds safer will never be as effective as simply not having this style of blind anywhere in your home.
Much attention is paid to the risk of corded blinds to infants, especially as it relates to the proximity of the child's crib to a window. Cribs should never be placed next to a window, and certainly not within the reach of curtains, blinds, or cords. A child can easily become entangled and strangled to death. However, the risk does not end in infancy. In fact, statistics show the risk increases in the toddler, preschool, and elementary ages. Children are adventurous, unpredictable, and fast. As they get older and more confident, they are more likely to stack objects to climb, jump, and put themselves in dangerous situations. As your child gets older, tying the blind cords out of reach or attaching them to a cleat may no longer be enough to prevent harm. Kids can climb on top of toys and furniture to reach cords, and their weight when jumping from an elevation is enough to pull a cleat out of the wall.
The best precaution is supervision, but it is unrealistic to assume that a parent will be with their child every moment of the day, especially as their children get older. This is why it is absolutely crucial that preventative steps be taken, far before any tragedy can occur. At the very least, blind cords should be tied up and away, cut, or secured with a cleat, but the best and most safe option is to install cordless blinds or window coverings.
Here at Blindsgalore, the topic of "cord safety" is something very close to our hearts. As a leading provider of blinds to households across the county, children's safety is a top priority and focus for our company. We feel strongly that we need to not only provide a range of stylish and chic cordless blinds, but also participate in educating parents and homeowners about the risk window coverings can present to children. Our ultimate goal is to help provide a beautiful and safe living environment for you and your family.
The Kitchen
The kitchen is the heart of the home, a gathering place for the whole family. Whether you are making a hearty breakfast for your kids before school or enjoying a family dinner together while sharing the day's stories - the kitchen is where everyone comes together.
The kitchen is also where many child injuries occur. To help keep children safe, it is important that parents are aware of potential dangers in the kitchen.
Establish a "3 Feet From Heat" Zone
Approximately 16,000 children under 5 years old are treated at the hospital for burns each year. These burn injuries are often caused by kids reaching up to grab pots and pans from the stove.
Set a 3-foot boundary around your cooking area and teach your children not to cross it. Shriners Hospitals for Children, located throughout the United States, have a unique and useful teaching strategy: a series of children's activity books to educate about the dangers of burns and how to stay safe at home.
Put Appliances Away
A cord dangling down from the countertop seems like the perfect toy to a small child. However, many children are injured each year by pulling these devices off the countertop and onto themselves.
GroupHealth, a consumer-governed nonprofit healthcare system, recommends that parents keep dangling appliance cords (coffee makers, blenders, crock pots) out of a child's reach. Whenever possible, these appliances should be kept far away from the countertop edge or stored in kitchen cabinets.
Playtime in the Toy Room
There were more than 250,000 toy-related injuries resulting in emergency room visits in 2010, according to the US Consumer Product Safety Commission. Included are deaths from choking and lacerations from sharp ends of certain toys during playtime.
Suffocation from Small Toys
While kids love their toys, it's important for you as a parent to know the potential safety issues of toys before you bring them into the home.
For infants under one year of age, suffocation is a leading cause of death. Small toys not intended for infants, and therefore unsafe, are often the cause of these suffocation deaths. The graph below shows the death rate by cause for children less than one year of age between 2000-2005, as published by the CDC.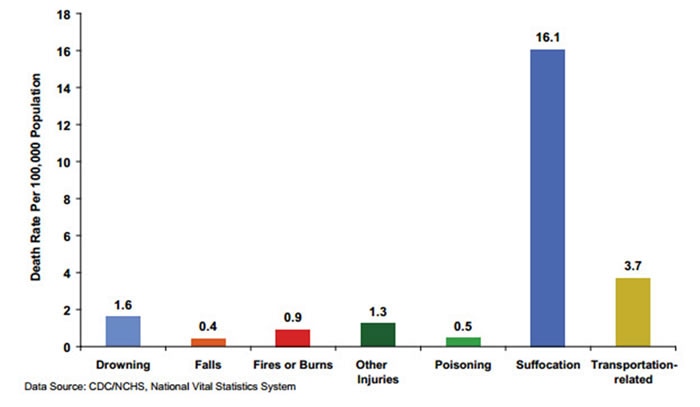 Older Brothers and Sisters
Most parents know that a small toy may be a choking hazard for infants and young children. However, many parents with children of different ages don't realize that an infant will often find or have access to their older brothers' or sisters' toys. Most of these toys do not follow similar safety guidelines and pose a serious threat for injuries or even death.
Kay Green of at MyPreciousKid.com has a great suggestion for families with children of multiple ages: have a separate toy bin for big kid toys and only allow older siblings to take these toys out when the baby is asleep or safely occupied in another room. For more from Kay, check out her growing Facebook community.
Children understanding the dangers of leaving their toys out and being rewarded for putting toys away can minimize the chance of dangers to your younger children.
Store Toys in a Child Safe Toy Chest
The US Consumer Product Safety Commission issued a warning to parents regarding the potential for children getting hurt by the lid of their toy chests. The Land of Nod, a leading supplier of home furniture for children, recommends only using toy chests that stay open in any position. This protects children from having the lid fall while they are getting toys out, which can injure the child, or even cause suffocation.
The Bathroom
The bathroom is where kids clean up before bed after a day of fun in the sun or playing with friends. However, the bathroom can also be a dangerous place if parents aren't conscious of potential threats to their children's safety.
Lock Your Toilet
The Consumer Product Safety Commission reports that the most child-drowning incidents do not occur in the pool, but instead occur in bathroom toilets. This tragedy can happen in a moment, unexpected and horrible.
By using a toilet lid that locks, parents can make sure their kids don't accidentally fall into the toilet and drown. Amy Chezem of JPMA.org recommends that pregnant first-time mothers get in the habit of locking the toilet seat well before having their babies, as the process will be second nature by the time the bathroom becomes a safety hazard for their children.
Keep a Comfortable Water Temperature
Children's skin is far more sensitive than adults', so it's important to ensure that bathwater doesn't scald or burn your child. The easiest test is to place your wrist or elbow in the water for 30 seconds - you should feel no discomfort or "sting" of heat.
Michael Hixson of KidsSafe Inc. recommends ensuring your water heater is set to 120 degrees, or lower, to avoid the risk of scalding.
The Bedroom
At the end of a long day, you get your children snuggled up in bed and read them a night-time story. Yet there are a few dangers to address in the bedroom to ensure that your kids have a safe and sound place to sleep.
Remove Large Toys from the Crib
At age 13-18 months, babies often try to climb out of the crib which can cause injuries from falling. To keep them safe, parents should keep mattress sets at the lowest level in the crib. Also, large stuffed animals should be kept outside of the crib, as these can be used as stepping stones for a creative baby on the move.
Secure Furniture to the Wall
Any furniture in the home is a fortress for babies to conquer and climb. Ron Hazelton, host of the national home improvement show "House Calls" recommends that parents secure all furniture, such as dressers and nightstands, to the wall with inexpensive anti-tip kits. This prevents falling and tipping if a child is pulling or hanging on the furniture.
Throughout The Home
In addition to the specific areas of the home listed above, there are other safety issues to be aware of throughout the entire home.
Openings in Furniture or Staircases
One safety issue is the potential for small children to get stuck or fall through small openings, such as the area between bannister rails on a staircase. BrightNest, a creative website for homeowners, recommends using the tennis ball test: if a tennis ball can fit through the opening, then this is too large to be safe for children, and it should be fixed.
Shatter-Proof Windows
Children can turn the home into their personal racetrack or obstacle course, so it's important to think ahead regarding potential trips and falls that could occur. One potential danger is falling into a closed window. William Giakoumatos of American Custom Contractors recommends installing windows with laminated glass which can minimize shattering during impact.
Use Tamper Proof Power Outlets
There are more than 2,000 injuries per year resulting from children tampering with power outlets and getting burned. Tamper proof power outlets, known as "tamper proof receptacles", look like normal power outlets but have a spring loaded cover blocking the power contact points. Unless equal pressure is applied to both sides at once, the cover stays in place, which means it's not possible to come into contact with the power contact points.
Electrical Safety Foundation President Brett Brenner recommends that all homes, especially those with young children, utilize tamper proof receptacles throughout the entire home.
Keep Cleaning Supplies Stored Securely
Young children are prone to taste anything they come across in the home, including cleaning supplies or other liquids that might spike their curiosity. The CDC chart below shows the rate of injuries from poisoning by different age groups. Young children under the age of four are significantly more likely to experience accidental poisoning. Households with young children must keep cleaning supplies and other potential poisons out of reach of children.
While you can buy child proof latches for storage cabinets, there are quick fix solutions you can use without having to buy a product. David Bakke, Editor of Money Crashers Personal Finance, recommends wrapping a few rubber bands around each of the knobs you want to keep shut instead of buying a child safety latch. Your baby won't be able to get in.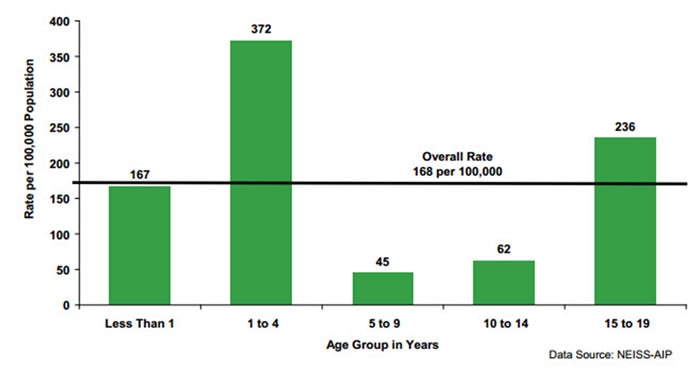 A Checklist for Your Home
We have touched on some of the most popular child safety issues in the home, but we encourage you to share your insights with us and other parents.
In the meantime, you can download our Child Safety Guide checklist by clicking here.