Wooden Blinds & Custom Wood Blinds
Wooden Blinds & Custom Wood Blinds
Filter By:
Brand
Green Products
Popular Features
Type of Window
2 products
new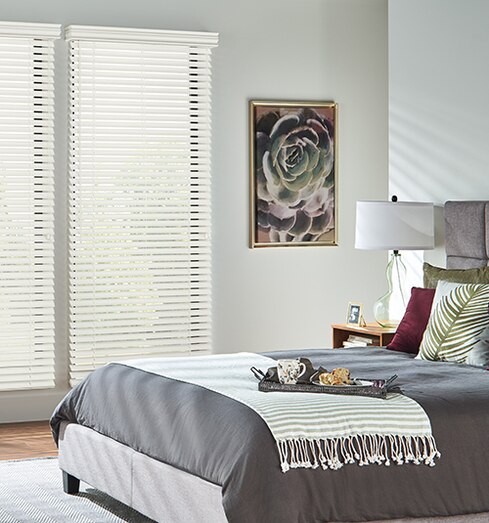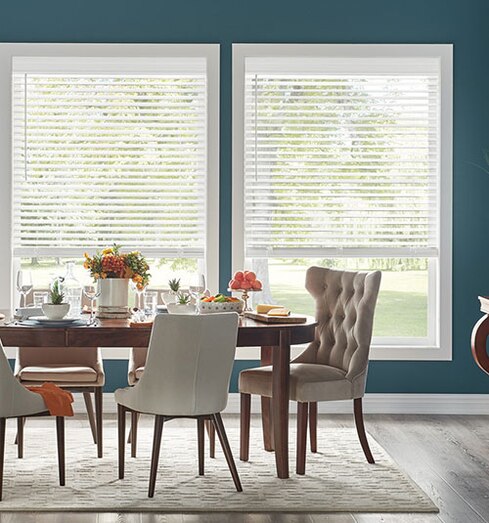 Real wood with fine grain and stains
Classic, timeless, refined look
Choice, hand-selected timber
Excellent insulation and privacy
Warm, organic and natural
Buy Wood Blinds Online - Custom Wooden Window Blinds
Real wood blinds are the ultimate in complementing any style of décor and offering an inviting, traditional look with a rich patina that only real wood can provide. Hardwood blinds are durable and lightweight, making them ideal for large windows. Most wooden blinds are harvested from timber using sustainable forestry techniques and come in a wide variety of stains to match most hand-rubbed furniture, molding or flooring. Wood blinds can also be distressed for the rustic look or stained in modern colors for a more contemporary feel. Slat sizes, valances, motorization and routeless options add to the many choices. Cloth tapes bestow the finishing touch to wood blinds to enhance color and design appeal. Add style and sophistication to your décor with wood blinds and enjoy the natural look of real wood grain in a diverse range of stains and textures.
How to Choose Between Real and Faux Wood?
Read our blog to decide if real wood blinds or faux wood blinds are right for you.
What to Consider When Selecting Wood Blinds
Slat Size
Larger windows typically require a larger slat size, while the inverse is true for smaller windows. The most popular size for wood blinds are 2" slats.
Finishes
Wood blinds are available with many different finishes and stains, most suitable for a neutral palette.
Customizable Options
Lift
Standard: With a single pull, you can lift or lower your blinds and effortlessly lock them in position. This cord can be placed on either the right or the left side of your blind.
Cordless: Removes the lift cord, allowing you to operate the blind by pushing or pulling on the bottom rail. Even with a cordless option, you will still have vertical support cords running through each slat.
Tilt
Cord: Pull the cord to rotate your slats. These cords can be positioned on either side of your wood blind.
Wand: Open and close your slats in a single twist. Wands can be placed on the left, right, or center of your wood blinds.
Motorized: Some wood blinds can be upgraded with a motorized tilt, a luxurious feature that's also useful for hard-to-reach windows.
Light Control
Routeless: Removes the notching in each slat to make your room darker when the blinds are closed. Certain products may refer to this option as "Lightmaster" or "NoHoles".
Decorative Accents
Cloth Tapes: Cover the standard support cords with a stylish cloth tape to add a finishing touch that allows the addition of an accent color or design.
Valances: Include a decorative top portion that will cover the headrail for a complete look. These are available in matching colors and materials.
How to Measure and Install Wood Blinds
For assistance measuring for your custom wood blinds, please view our helpful measuring guide.
We also have installation guides for your specific brand of wood blinds available on our site.
If you need any assistance measuring, installing, or customizing your wood blinds, don't hesitate to reach out to our in-house team of design experts over the phone (877.702.5463) or via email (customercare@blindsgalore.com).
You can also book a virtual one-on-one appointment with our virtual designer to find a custom solution for your windows.
customer reviews for wood blinds