Sheer Shades
Sheer Fabric Shades & Blinds
Sheer Fabric Shades & Blinds
Airy fabric with soft sheer inner vanes
Open vanes allow diffused light inside
Continuous cord lift/loop for child and pet safety
Light filtering styles go well with drapery
Room darkening styles obstruct light
Sheer Shades for Windows
Sheer shades, at one point, were considered a secret in the world of interior design. Now, the secret is out and sheer shades and blinds are very popular window coverings. The sheer fabric adds a delicate touch to any room and can be tilted to provide increased privacy when needed.

If you're looking to make a room feel airy, bigger, and brighter, you cannot go wrong with custom sheer shades. Just keep in mind where your sheer fabric blinds are going to be placed and how much privacy you will require. That well help determine the color, thickness, and style to ensure a perfect fit for your home.
What Are Sheer Shades?
Learn more about custom sheer shades and why they're an excellent choice for your home.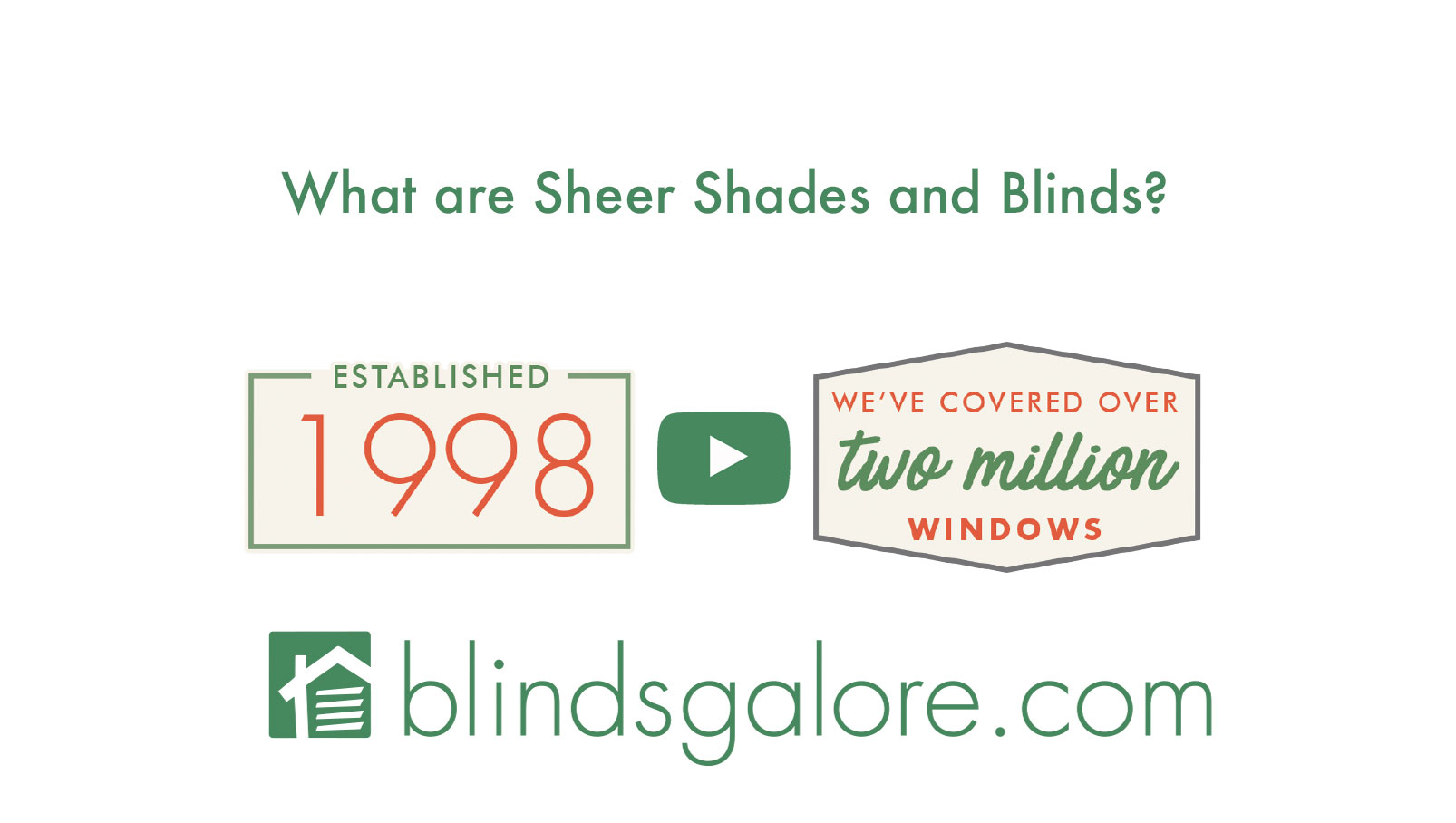 Benefits of Light Filtering Sheer Shades
Sheer shades are constructed with an airy layer of soft sheer fabric on the inside of the vanes, which helps them bring in a decent amount of natural light. Typically, these horizontal sheer shades are woven to give a more natural look and feel, compared to plastic, glued imitators. Vertical sheer shades are not as common anymore, but when you're looking to play with the natural light, then they are an excellent option, as well as being a unique design factor in your home.
What to Consider When Selecting a Sheer Shade
First, consider the light level you're looking to achieve in your room. This is an essential factor when pinpointing the best sheer shades. It's a good idea to pair curtains with your horizontal sheer shades so that you can get a total blackout of light when necessary. Curtains will give you an extra layer of privacy, as sheer shades very rarely provide complete street-facing coverage. After all, the primary purpose of sheer shades is to let in light as much as possible.

If you plan on using sheer shades in the bedroom, you may opt-in for darker colors to start to help mute the incoming light and make the room darker. Other rooms, such as the living room, may benefit from brighter colors. Sheer shades are also very effective at blocking glare.
Banded Sheer Shades vs. Traditional Sheer Shades
Banded sheer shades, also sometimes called layered shades, can be adjusted to be either half-opened or fully closed by aligning the alternating, banded material to provide additional privacy. You will still have plenty of light coming in, but visibility will be slightly reduced. This is helpful when it comes to covering windows in more private settings, like a bedroom.

Traditional sheer shades tilt to be either fully closed or fully open. While this may not provide a lot of a lot options, it will still give you the coverage, or bright room, you're looking for. Keep in mind, closed traditional sheer shades may still project a silhouette outside of the window. Especially if there is a light source in you room.
Customizable Options for Sheer Shades
Lift Options

Sheer shades include built-in systems that will easily and, in some cases, automatically retract or lower your shades. The most common option is a continuous loop lift, which is a looped cord that is bracketed to your wall and operated like a pully. There is also a cordless option, which allows you to effortlessly adjust your sheer window shades via the bottom rail. For the ultimate experience, choose a motorized lift to keep it simple and raise, lower, or tilt your sheer shades with the press of a button.



See how a sheer shade with a continuous cord is raised and lowered




Smart Home Compatible

Take your motorized sheer shades to the next level. Using the NEO hub, you will able to link select brands of sheer shades with your smart home. It's perfect if you're looking for the most modern and luxurious option available. You can control your sheer shades from your smartphone or smart device. You can even set each shade to adjust automatically with timers, keeping your horizontal sheer shades in the perfect position throughout the day. The best sheer shades imaginable. Most Blindsgalore and Bali Sheer Shades are compatible.
How to Measure and Install Sheer Shades
Measuring for custom sheer shades is easy.View our helpful guides for an inside or outside mount.
Here is a helpful video on how to measure for your custom sheer shades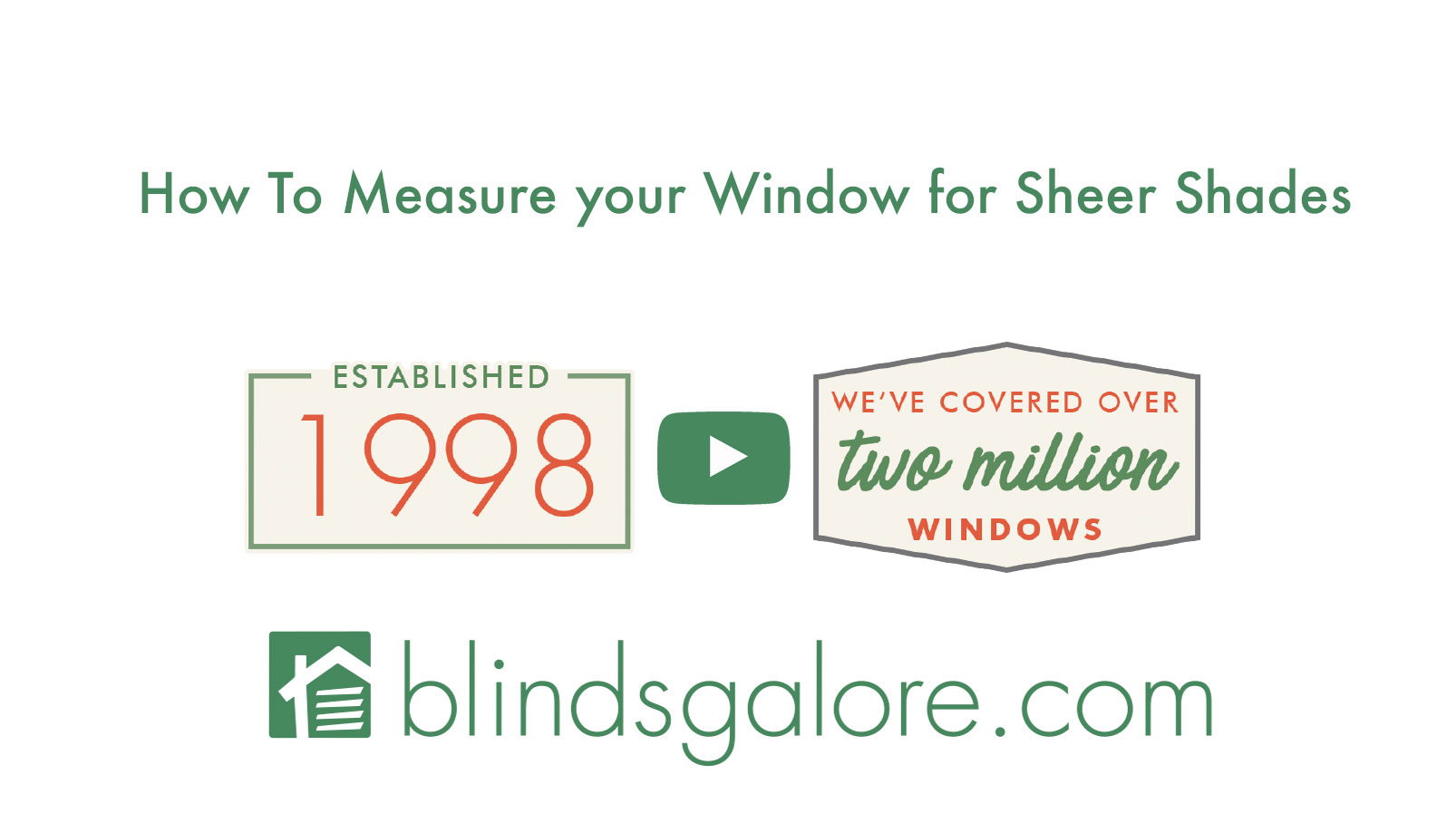 Our installation page has all the instructions you need to mount your specific brand of sheer shades.
If you have any questions while measuring, customizing, or installing your custom sheer shades, don't hesitate to reach out to our team of experts over the phone over the phone (877.702.5463) or send us an email (customercare@blindsgalore.com).
If you'd like to meet with our virtual designer via webcam, simply book an appointment online. We'd be happy to help you find a look you'll love.
customer reviews for sheer shades