Insulated Window Treatments
Insulated Window Treatments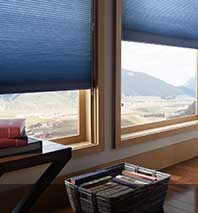 Ever feel a persistent draft throughout your house? This is probably the result of poorly insulated windows, and the solution is insulated window treatments. Check your window caulking first, however, because there's no sense investing in insulated window treatments if the draft can still sneak around the corners. But even if your windows are airtight, you can still suffer from convection drafts when warm inside air hits the cold windowpanes. The good news, though, is that you've got several options when it comes to insulated window treatments. All blinds and shades should be installed as flush with the panes as possible without interfering with the window covering's operation.
First, you can choose cellular shades. Top quality manufacturers like Bali and Levolor have developed innovative cellular shades that use single or double layers of individual cells to stop and absorb drafts. These cellular shades are available in varying light control levels, from semi-opaque to blackout, depending on your requirements and, style-wise, they can go formal or casual.
A classic alternative to cellular shades is traditional insulated drapes. Some retailers offer heavy fabric roman shades with concealed magnetic strips to better trap cold air. Pick a heavy fabric to ensure maximum insulation, or even consider a two-layer treatment with the heavy fabric on the outside and a more decorative color or pattern for the interior. Not only does this provide maximum temperature control, it also allows you to choose color and fabric combinations.