Vinyl Window Treatments - What's Available?
Vinyl Window Treatments - What's Available?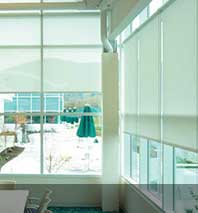 For the budget conscious, or for the simply practical, vinyl blinds are a great choice. And, why not? They're affordable, durable, functional and easy to clean. But there's way more than just white vinyl mini blinds. Blindsgalore informs you about all types of vinyl window treatments available.
I am going to segregate the information by window treatment types. First, it should be noted that not all window treatments are 'blinds.' Window blinds have horizontal slats (e.g. mini blinds) or vertical vanes (e.g. vertical blinds). They operate by tilting the slats or vanes open or closed. By comparison a window shade is made from one continuous piece of fabric that either rolls up or folds up (e.g. roller shades, cellular shades and roman shades). Lastly, there are shutters. They are more like blinds, in that they have horizontal louvers (like the slats on a blind). The difference with shutters is that the louvers are operated by hand and, they are wider than slats on a blind.
Horizontal blinds
Vinyl mini blinds - when it comes to vinyl mini blinds, here's a few things you should know. They are generally available with 1 inch or 2 inch slats. Two inch slats are the traditional choice and work well with most window sizes. They also offer greater view-through when the slats are open. One inch slats are a better choice for smaller windows or even on doors. Vinyl mini blinds come in almost the full spectrum of colors. So coordinating your mini blinds is simple. One good way to get the most out of your vinyl mini blinds is to not choose white. Choosing a complimentary color (other than white) helps to make your mini blinds to look more upscale.
Vinyl faux wood blinds are a great choice when you want the look of real wood blinds but on a 'vinyl blinds' budget. Not only are they quite a bit less expensive than real wood, they are also a lot more durable. Faux wood blinds are available in vinyl and composite wood. Between the two, vinyl is less expensive but composite wood has a more upscale look. Vinyl faux wood blinds are generally available with 2 inch or 2 1/2 inch slats. Again, larger slat sizes offer greater view-through and are a better choice for larger windows. Color choices range from neutral painted colors and common stained colors.
Vertical blinds
Vinyl vertical blinds - vertical blinds are the go-to choice for patio doors and oversized windows. Let's face it, we have probably all, at one time in our lives, lived in a home or apartment that had white vinyl vertical blinds. Not very imaginative and not very interesting. Functional? Yes. Beautiful? No. Take heart though, because there are ways to enjoy the low cost of vinyl vertical blinds, while staying away from adding to the vast ocean of homes with white vinyl vertical blinds. What many people don't know is there a huge range of colors, textures, patterns and even shapes. You can choose a vinyl vertical blinds in a nice complimentary color (other than white) with a textured vanes. Or consider s-shaped vanes. S-shaped vertical blinds have an undulating shape so when you close them they look more like flowing drapes - this helps to break up the straight lines normally associated with regular vertical blinds.
Window shades
Vinyl roller shades - often go by many names, many of which aren't quite accurate. Many people call roller shades - roller blinds and roll up blinds. As we've learned they are technically not blinds. When people ask for vinyl roller shades, I generally think those cheap white, sun-beaten shades you might see in run-down gas station in the middle of nowhere. Roller shades have come a long ways. Now they are contemporary and fashionable. Even the once simple vinyl roller shades come in a wide assortment of fabrics, textures and prints. There are still basic vinyl roller shades and generally people want them for room darkening.
Shutters
Vinyl plantation shutters are a great choice for those who want inexpensive plantation shutters. Vinyl plantation shutters are durable, lightweight, energy efficient and come in a limited palette of neutral colors and painted stains. They are generally available with 2 1/2 or 3 1/2 inch louvers. The same logic applies to different louver sizes as slat sizes - larger louvers provide more view-through and are better for larger windows.
No matter what your design preference is, there are a lot of good choices for window treatments made from vinyl. It is one of the most durable window treatment materials which means they will last a long time. Vinyl window treatments are versatile, heat resistant, and a great value.