Comfortex, Home Design Trends: The Truth about Going Green
Comfortex, Home Design Trends: The Truth about Going Green
"Going green" to conserve our earth's natural resources has been at the center of everyone's mind lately. Do your part with recycled blinds and energy efficient shades.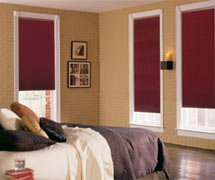 Did you know you can create a style that looks great and is good for the environment? Here's how:
Winterize, Summerize...Weatherize
By incorporating energy-efficient window treatments into your home décor you can trap out the cold in the winter, and the heat in the summer. One great option is Comfortex's Energy Smart Insulating Cellular Shades (pictured at right). For the ultimate in Energy Savings, try Energy Smart Shades with ComforTrack Energy Saving Sidetrack System. If you like the benefits of cellular shades, but the look of drapery-style fabrics, try Fusion Insulating Roman Panel Shades.
Aside from energy-efficient cellular shades, you can also insulate your home by using weather-stripping to seal windows and doors. Also try placing foam draft blockers behind electrical cover plates. You may also want to use insulation to wrap your water heater and water pipes, preventing heat loss during transfer.
Shine some (compact florescent) light on the subject
One of the simplest things you can do to save energy is replace your regular lightbulbs with compact florescent bulbs (CFLs). CFLs will last up to ten times longer than regular light bulbs, while using only 1/4 of the energy!
Many manufacturers offer CFLs that are warmer in color and look very much like regular bulbs. They can save energy and showcase your interior design style at the same time.
Nature's Lightbulb: The Sun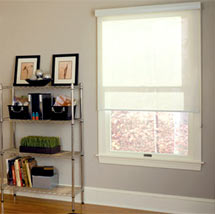 From Mother Nature, we get the most energy-efficient light source of all - the sun. You can make use of the natural light by choosing window shades that will maximize the sun during daylight hours. Shangri-La Sheer Horizontal Window Shadings are the answer to a room that requires the privacy of a shade but the light of the sun.
Also you may want to consider Comfortex's SilverScreen fabrics (pictured at right), which eliminates glare, controls drafts while maintaining a clear view that will maximize the sunlight.
Be an Energy Star (or just use your appliances more efficiently)
You can significantly reduce your power and water usage, as well as your greenhouse gas emissions, by using Energy Star appliances. Replacing your old appliances can impact your energy use in a big way.
Consider this: your refrigerator uses the most power in the house, and today's refrigerators consume less than one quarter of the energy used by older models. An upgrade of this item alone could result in huge energy savings.
Try these energy-saving tips with your appliances; Only run full loads in your dishwasher and washing machines, which will save you energy (and water) in the long run because you'll run them both less. Also, try moving your refrigerator away from your oven or dishwasher. By doing this, energy is conserved by saving the appliances the effort of counteracting the heat put out by nearby appliances.
It's All in the Timing

With the miracles of modern technology, there are now a number of ways for you to save energy in your home - even when you're not there. New, motorized options for window treatments allow you to pre-determine the times of day when your window shades should be open or closed. As the winter approaches, set your window treatments to rise to capture the sun during the day, but close before it gets dark so that you can trap the heat in.
Programmable thermostats are also a way to save energy. You can set them to be off while you're away, cool down at night or while you're at work, and warm up right before you come home.
Don't Flush Away Your Eco-Friendly Attitude
The bathroom is a great place to save on water. Try a shower timer, or low-flow showerheads and faucets, which will help to conserve another one of nature's precious resources - water!
Try "faux" materials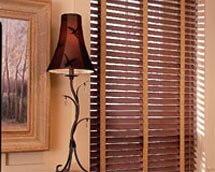 Comfortex® Woodwinds® Composite Wood 2 Inch Reed - Woodtones and Textured
Try to purchase products that are made from environmentally friendly materials that are recycled, reclaimed, organic, or renewable. Like Comfortex Woodwinds Wood Alloy Blinds (pictured at right). They have the classic look and feel of real wood that will warm up your home, but are made from a blend of real American hardwood and recycled materials.
Color Me Green
Did you know that many standard paints contain Volatile Organic Compounds (VOCs), which contain toxic substances that can affect indoor air quality? Try a low- or no-VOC, eco-friendly paint instead; many of the most popular names in the paint industry now offer these environmentally safe alternatives.
Actively Recycle

You may not know that you can recycle more than just soda cans and paper bags. For example, did you know that you can now recycle your wood alloy blinds?
Your local BlindCrafter now offers you a Recycling program Save Now, Recycle, and Save Again. When you return a Woodwinds blind to Comfortex for recycling, you'll receive a $25 certificate good toward the purchase of a new Comfortex Window Fashions product. It's our way of saying "thank you" for conserving our forest resources and reducing landfill waste.