Energy Saving Window Treatments
Energy Saving Window Treatments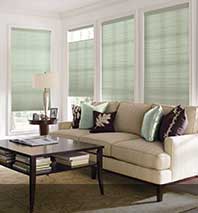 It's no secret that energy costs are soaring; between high heating bills in the winter and shocking air conditioning spikes in the summer, we all have to find ways to save electricity. But don't start bricking up the windows just yet—there's a lot you can do to conserve energy and get your bills under control.
One of the easiest ways to conserve electricity is to invest in energy saving window treatments, a simple, one-time investment that can be surprisingly effective. Due to increased consumer demand, several leading blind manufacturers have made effective innovations in insulating blind technology. These blinds are more expensive than standard ready-made blinds, but homeowners should think of them as an investment that will yield consistent returns.
During the summer, the key is to mount your cellular blinds as close to your windows as possible; this will ensure that cold air does not escape. Additionally, in the winter, raise south-side shades during the day to allow a maximum amount of natural heat in. And if you're serious about your energy saving window treatment, consider a duel shade system—choose a bright, reflective color, preferably white, and a dark, light-absorbing color and switch the blinds each season. Many custom blind manufacturers will design these window treatments for you. Cellular shades are another exciting innovation in energy saving blinds-these use single or double layers of honeycombing to stop cold air from getting in. Whichever way you go, you'll be surprised how much you save and how easy it is to do it.