Go Green and Save Green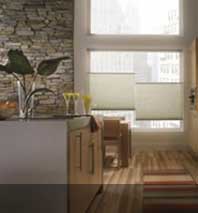 In general window coverings are inherently green products. Having a blind or shade in your window will help block the sun's heat in the summer and reduce heat loss in the winter. This insulating effect reduces energy consumption and lowers energy bills. By blocking out the sun's UV rays, they also prevent damage to furniture, flooring, and belongings thereby protecting the durability of your home.
Below you'll find green window treatments and the key features that make each environmentally responsible.
"Green" Cellular Shades
Cellular shades have the highest energy savings and are designed and tested to ensure a long life, reducing landfill waste from short-lived products.
In addition, most of the components of these cellular shades are recyclable. This includes the fabric, aluminum headrail and plastic components. There are also additional components in these cellular shades that contain pre-consumer recycled material.
Eco-friendly Faux Wood Blinds
Comfortex® Woodwinds® Composite Wood 2 Inch Reed - Original Whites
The following faux wood blinds are made from a blend of recycled hardwood and thermal polymers. They are also a post-consumer recyclable product, making them an excellent option for the green conscious customer. Faux wood blinds are constructed from durable, long lasting materials making them a versatile product for many living spaces.
Environmentally Sound Wood Blinds
The wood blinds listed below are manufactured of domestic basswood - a material that is available in considerable supply. During the manufacturing process, 99% of the sawdust is recycled and reused as energy to fire the kilns and heat the factory. The need to harvest new materials is reduced and the transportation emissions that result from importing foreign wood are diminished.
Additional components in wood blinds such as the headrail and plastic components also contain pre-consumer recycled material.
Roller Shades that are Chemical Free
The styles of roller shades listed below do not contain any harmful ingredients such as PVC, CFC, formaldehyde or other organic solvents, antimony and halogen compounds.
Roman Shades that are Energy Saving
These insulating roman shades also offer above average energy savings. They have excellent UV protection and can help shield your home from the cold in the winter, and the heat in the summer.
Solar Shades that are UV protecting
Solar shades are used to block solar heat gain and reduce UV transmission all while preserving your view.
The following solar shades also have GREENGUARD and certified low VOC emission fabrics. This means the fabric has passed testing for over 75,000 chemicals including carcinogens and other toxins.