Girl's Room Window Treatments
Girl's Room Window Treatments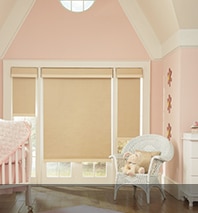 Whether you've got a newborn or a growing little princess, designing girls' window treatments can be a fun and interactive experience for the whole family. Traditionally, pink is the color to choose for girls' window treatments, but lavenders, creams and yellows are all popular. Incorporating a soft lace fabric is another technique frequently used in girls' window treatments. Depending on her age, your girl probably has some opinions of her own and you should encourage her to participate in the decorating experience. Maybe not all of her suggestions will make the final cut-or even be particularly feasible-but if she feels like she had a hand in designing her room, the space will be much friendlier to her.
Use parental judgment when it comes to incorporating "fantasy" elements into any child's room. May be that pony motif is just a phase and she'll move onto something else next week, but if it seems like the ponies are here to stay, consider saying yes to an equestrian print fabric.
Another thing to consider is light control and privacy. In any child's room, you want to keep their natural sleep patterns as intact as possible. Especially with young children whose sleep patterns can often be unconventional, its important to let light in during waking hours but keep it out when she's sleeping. With that in mind, wood blinds, cellular shades and roller shades all offer the heaviest amount of light blackout. Consider fitting these blinds with looped continuous cords, motorized controls or cordless pull down features. Not only are tangled cords unsightly, but cords in young children's rooms are responsible for many accidents every year.