Kid's Bedroom Window Treatment Ideas
Kid's Bedroom Window Treatment Ideas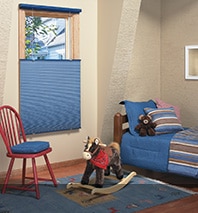 Whether you're eagerly expecting or you've just moved and need to get a room ready quickly, window treatments for kids' bedrooms need to strike a balance between safety and inspiration. Obviously, you want to avoid potential accidents, but you also want to offer a welcoming and fun environment in your kids' bedroom.
Safety Concerns with Kid's Bedroom Window Treatments
When choosing kid's bedroom window treatments safety should be a primary concern. Be sure to avoid long drapes and other dangling fabrics - not only can a child become entangled, but they like to tug at colorful, soft things and there's a risk they might pull down whole pieces of window treatment hardware. It's tempting to put cribs and playpens near windows and position them for maximum sunlight, but again, if there's a dangling cord within reach (or even just out of reach - you'd be surprised!) you can practically count on a child managing to grab it somehow. Improvements have recently been made to cord hardware and now most blinds are available with breakaway cords, cordless top down/bottom up options, or even motorized remote control options.
Light Filtering in Kid's Room
Also, it might be a good idea to go with blackout linings - kids keep their own hours, and you don't want sunlight interfering with nap time. Use fun, bright colors like primary reds, yellows and blues and try to repeat the color scheme in other design elements of the room to create a truly stimulating and pleasant environment. However, don't make your kid's window treatment color choices garish and overbearing - try and find a good mix between soothing and vibrant.