Kitchen Window Treatments
Kitchen Window Treatments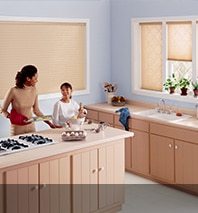 The kitchen is one of the most important rooms in the house—busy families often gather there in the morning for breakfast and end each day cooking dinner in the evening. Keeping that in mind, your kitchen window treatments will depend on the overall style of your kitchen. Generally, kitchens fall into one of two categories—country or modern. Whether you're redoing the entire kitchen or just buying new blinds, decide which decorating style applies to you first, and then pick your window treatments.
Country (or Italian) Style Kitchens
Country style kitchens should be a haven of light and warmth, and may also be comprised of a breakfast nook. Emphasis should be on the sun, and anything that brightens the room is an asset. Country style kitchen window treatments classically come in two parts: hanging café curtains and a matched upper cascade curtain or swag. Traditionally, the curtain set will feature bright patterns (i.e. gingham prints that match with the kitchen's color scheme or printed trims like apples or cherries). Lace curtain sets also work well, and let in a maximum amount of sun while still providing some privacy. You can also use wood blinds, faux woods, or shutters: choose white or warm stains and stay away from anything too dark. Hang polished copper pots for a rustic Italian feel.
Modern Kitchens
Clean metal surfaces feature prominently in modern kitchens, as do glass and marble (imitation formica or real.) The color palette in a modern kitchen is usually white, and it's important to keep the aesthetic warm instead of clinical. Modern kitchens place an emphasis on hardware-a brushed steel range top or a white refrigerator door might take center stage. Metallic or boldly colored mini blinds can be functional and funky—match brightly colored blinds to a single item for a sleek and exciting effect. You can also maximize your light and your view with innovative patterned or solid solar shades capable of screening out sun-glare and UV rays. Emphasizing the view brings nature into the kitchen for a refreshing contrast in a modern setting.