Bamboo Window Treatment Ideas
Bamboo Window Treatment Ideas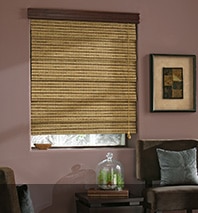 There are several appealing scenarios in which a homeowner would employ bamboo window treatments. These beautifully textured and easily maintainable window treatments touch on several aesthetic design elements, while also remaining an affordable option for design-conscious decorators.
Bamboo window treatments offer a high degree of light control. And along with other wood blinds, bamboo window treatments come in a slatted, functional form that provides near blackout quality light control and a pleasant design aesthetic.
Bamboo window treatments can be paired off with cloth curtains to provide a layered and beautiful overall design effect. Bamboo shades are a traditional decorating option, and they are subtly effective without being gaudy. However, lately bamboo window treatments have been seeing an increase in popularity due to bamboo's innate "green" properties. Bamboo is a healthy and vivacious plant that takes to nearly any environment, and there are no worries of bamboo harvesting effecting the environment any time soon. With that in mind, bamboo is actually one of the most ecologically friendly wood blinds on the market today, no matter what your overall design theme is. The bamboo plant's fundamental opacity and texture make it perfect for constructing convenient and versatile blinds.
While always stylish, bamboo blinds are not restricted to Asian themed décor. Any home can benefit from these ecologically sound and stylish window blinds and they are very easy to clean and maintain. Color and texture of bamboo blinds is negotiable, and they can range from traditional light and smooth tan slats to any color of paint to match other design points in a room.