Cornice Window Treatments
Cornice Window Treatments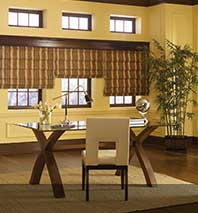 Looking for a versatile way to make a home decorating statement? Cornice window treatments are a handy, dual-purpose tool in any interior designer's arsenal. For the purpose of function, they conceal boring or unsightly headrails or curtain rods, and for the purpose of design, they give you a chance to be creative.
But for the uninitiated, what are cornice window treatments? Simply described, they're the four-sided wooden box you can use to cover up your curtain rod or the headrail of your blind or shade. The bottom is open, and one side is fastened to your wall. Getting basic cornice hardware can be done a number of ways, but if you have a DIY spirit, you'll realize that they're not difficult to make. Barring that, ready made cornices are available in many home improvement stores or you could hire a window treatment professional to come in and do a custom job for you.
The second step in designing your cornice window treatments is the covering. One simple way to make a big statement is to cover your cornice with matched wallpaper or used a decorative stripe of wallpaper trim. This pulls the whole room together and provides a cohesive design base. You could also paint your cornice, but try to coordinate it with your drapes, blinds and overall room color scheme. Use a flat match or try out different, sympathetic shades of the same color to create the kind of interior environment that puts you and your guests at ease. Finally, for some texture you can upholster your cornice in either solid colors or patterned fabrics that compliment your wallpaper and drapes.