Valance Window Treatments
Valance Window Treatments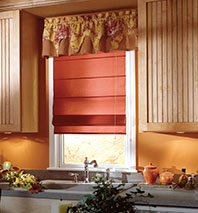 An easy way to make any window look complete is to pay special attention to your window treatment's valance, which is the top part that covers the curtain rod. It can be a draped swag, a cover that slips right over your curtain rod, or an entire decorative piece of wooden hardware. The valance pulls together a window treatment and turns it into an aesthetically cohesive statement that gives a polished feeling to the entire room. Here are a few fun tips for your window treatment's valance that should inspire you to get creative.
If you're going for country style curtains, you've got it easy. Most country curtains are sold with a matched valances-often a draped cascade-in the same color or pattern as the curtain. These pieces usually slip right over the curtain rod and fold to create a bright, bunched-fabric effect. Installing this couldn't be easier!
A flip valance is another easy option. These valances can be made of any fabric—they should probably either match your drapes or be a few shades away on the spectrum—and the fabric flips over the top of the rod to completely conceal it. Since there are two layers to this valance, you can get creative by experimenting with color and texture, such as a lace in front with a contrasting color in the foreground.
If it's a formal setting, find an expensive fabric valance (or just something that looks rich) and tailor it so it ends in a point. Hang a classic tassel off the point for a traditional, elegant look. Gold or mustard tassels look especially good in light, high ceiling interiors. Another way to give a valance an attractive weight—especially if you choose lace or other diaphanous fabrics—is to attach a solid fabric border-stripe to the bottom.
Note: The term valance is sometimes misspelled as valence.