Alternative Window Treatments
Alternative Window Treatments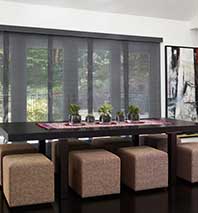 What do you picture when you think of traditional window treatments? Maybe standard matched curtain sets? Or neutral, hotel room roller blinds? Depending on what you're looking for, these could be the answer for you. But, more and more frequently, homeowners are turning to alternative window treatments when looking to put together a comprehensive decorating scheme.
Recently, technological innovations and inspiring trends have both taken standard curtains and drapes into the territory of alternative window treatments. One major advance has been in the field of insulated window blinds. Usually listed as either cellular or honeycomb shades, these energy saving window treatments are both stylish and cost efficient. The trick here is that the pleated design, which resembles a double-layered accordion, traps cold air in within the first layer of pleats and prevents it from entering the living space. And in addition to their cost effective appeal, cellular shades are also aesthetically striking. These window shades are available in a range of colors, and the overall effect is a traditional Venetian blind with an origami twist.
Another exciting development in alternative window treatments is the use of textured, natural wood shades. These shades may consist of anything from bamboo shades to rustic oak slats. Whatever your interior design aim, wood shades can compliment the interior-decorating scheme while providing a requisite degree of light and privacy control.
Finally, no guide to alternative window treatments would be complete without mentioning layered window treatments. With these exciting new designs, different textured shades are matched to allow for maximum light control. Combing a solar shade and a breezy gauze curtain provides a layered effect that, again, looks as good from the outside as it does inside.