Corner Window Treatment Ideas
Corner Window Treatment Ideas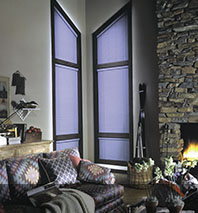 In most homes a pair of corner windows offer a great view and nice lighting, but they also pose a challenge when trying to design coherent corner window treatments. Here it is important to establish your design objectives before getting to work. Essentially, when it comes to corner window treatments, you can get as simple or fancy as you want. A pair of matched shades, one for each windowpane, is a perfectly acceptable and simple solution.
Consider looking into cellular or honeycomb blinds that will effectively block out light and provide privacy while also insulating the room, since corner windows are exposed to cold winds from two directions. The window's location could also influence your choice of window blind material. Do your corner windows face the street, or do they open up to a back yard? Is it a busy neighborhood? Are they in your bedroom? Often corner windows appear at the top of corner stairways or the end of hallways, and if this is the case using these window treatments for privacy can be secondary to their aesthetic and lighting effects.
One stylish way to put together corner window treatments is to employ curtain ties. Instead of a standard pull-down window blind, consider giving each corner window its own drape panel. Try and match the drapes to compliment the rest of the space. Then choose if you want the drapes to tie back in the corner, or on the outside of the two windowpanes. The effect will be either that of a formal two-panel drape or a funky and alternative use of your corner space. Have some fun with the drape tie fabric too, and pick something that accentuates the drape fabric.