Window Treatments for Sliding Glass Doors
Window Treatments for Sliding Glass Doors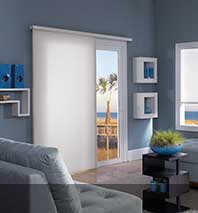 Glass sliding doors are a functional and stylish choice for any home. They turn your backyard into an extension of your home and let the natural light in. Plus, they provide easy access during outdoor barbecues and picnics or just during day-to-day use. But sometimes you don't want the great outdoors inside, and window treatments for sliding glass doors can be surprisingly cumbersome. Many people feel the options for covering a sliding glass door are limited, but that is not the case. There are many, highly customizable options to choose from.
Shop Window Treatments for Sliding Glass Doors
Vertical Blinds
Vertical blinds are a common and affordable solution for two-panel sliding glass doors. They can be adjusted to cover only the stationary panel, allowing access through the door panel. They can also be mounted with a coordinated valance or ceiling-mounted to eliminate that extra couple inches of bare space. Vertical blinds are also durable, making them a good option for high traffic areas and rooms frequented by kids and pets. Customizable options include which side of the door would you like your blind to stack as well as which side you would prefer the controls to be.
Sliding Panel Track Blinds
Panel track blinds (sometimes called sliding panels) for sliding glass doors are best if your top priority is light control. They are available in woven woods, fabric, or modern solar screen materials. If your sliding glass doors catch heavy summer sun, especially when you're sitting down at your dining room table or watching television, these screens are an easy way to block glare while still maintaining the view.
Vertical Cellular Shades
Vertical cellular shades are a newer alternative to traditional vinyl vertical blinds. Temperature control is a main concern when it comes to covering sliding glass doors which can quickly become a source of heat loss. The construction and material of the cellular fabric give it excellent insulation properties. Available in many colors and a variety of opacities, there is a combination available to suit every need.
Custom Drapery
Another classic choice, curtains and drapery, is ideal for covering glass doors or large windows. The color and fabric options allow them to become part of any room's décor. Choose a pleated header for a more traditional look or a grommet header if you prefer a more contemporary style.
Soft Vertical Blinds
Soft vertical blinds, also known as vertical sheer shades, feature sheer fabric over vinyl vanes. The sheer fabric allows soft light to filter through when the vertical vanes are open. For more privacy, the vanes can be closed. These blinds have the functionality of a vertical blind and the luxurious look of sheer drapery.
Woven Wood Drapes
Complimentary to most decor styles, woven wood materials are now available in a vertical blind application. They bring a natural element into your space and can be coordinated to match other woven wood shades in the same room. Options include privacy or blackout fabric, decorative edge binding, and even a choice of fullness, allowing you to create just the look and function you desire.
Double Horizontal Blinds
If any of the above options just aren't right for you, you can go for two horizontal blinds installed over the two panels of your glass sliding doors. Pick blinds with low head rails that will be easy to install flush to the glass. This way, you can raise the access door shade while leaving the secondary shade lowered.