French Door Window Treatment Ideas
French Door Window Treatment Ideas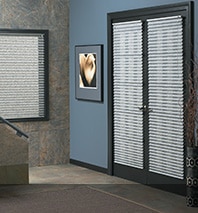 Whether used as a gateway to the backyard or as an interior divider separating the formal dining room or den, French doors are a lovely architectural element.
Window Treatment Ideas for Exterior-facing French Doors
For exterior-facing French doors, window treatments are necessary to control the amount of light coming through the glass panes as well as to help insulate for temperature control. For a traditional look, the smaller depth of a 1" wood blind would work well on an operational door. Roller shades are also a good choice but be sure to choose the standard roll option so the shade will roll off of the back of the roll and hang closest to the glass. This will prevent it from getting in the way of the door handles. If you'd like to reduce glare coming through your French doors but want to maintain the view to the outside, solar shades are the answer. Drapery is also a good solution to cover a large area, although it should be mounted above and extend the width of the door frame for proper coverage.
Window Treatment Ideas for Interior-facing French Doors
For interior French doors, in a dining room or a den for example, a more decorative treatment such as sheer door shades would filter light between rooms while also provide the option of privacy if desired.
Remember to consider the type of door handles on your French door. Make sure the shade you order will allow for complete access to operate the door and the shade. All shades for French doors should be ordered as outside mount. Also, include hold down brackets in your order if you plan on leaving the shade pulled down so it will remain secure against the door when opening and closing.