Patio Door Window Treatments
Patio Door Window Treatments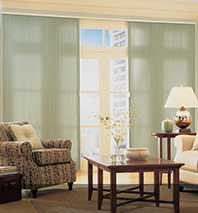 Sliding glass patio doors are a highlight to any room. By providing a view to the outside, they help connect indoor and outdoor living spaces. Plus they can be a great source for natural light. While this exposure is mostly welcome during the day, there are other times light when and temperature control are desired and this is where window treatments come in.
Patio door window treatments can be a challenge, so here are a few expert suggestions. Click the links to start shopping the blinds and shades we offer that are perfect for your patio or sliding door.
The traditional choice would be vertical blinds,which emphasize the dramatic dimensions of your patio door while providing complete privacy and light control.
Vinyl, fabric, and faux wood vertical blinds come in numerous color options–pairing them with coordinated horizontal blinds on your other windows is a good idea–and can provide a chic, designer look for any room. Interesting options include ceiling mount vertical blinds, which would eliminate a potentially annoying gap between the ceiling and the door frame. Also, Levolor's exclusive Backstacker feature reduces vane swaying by stacking them discretely at the edge of the window.
Another consideration is insulation. Glass patio doors offer a lot of surface area for cold air to get in, and investing in either vertical cellular shades or heavy insulated curtains is an easy way to save on your heating bill.
But if you're in the market for patio door window treatments and vertical shades just aren't your thing, don't worry, you've still got options. Sliding panel track blinds are a newer product to the world of window treatments. Available in a wide range of materials from natural woven materials to fabric to solar screens, they provide a more contemporary look.
You can also consider using multiple horizontal window blinds or shades to cover the area: splitting the shades per-pane (i.e. two if it's a full-glass sliding door) allows you to independently control your two shades. For example, the stationary shade can be lowered while the access shade is raised. In this situation, solar shades are an intriguing option–they'll screen out glare and UV rays while keeping your picture window view, and they're available in a wide range of patterns to compliment any interior environment.