Door Window Treatment Ideas
Door Window Treatment Ideas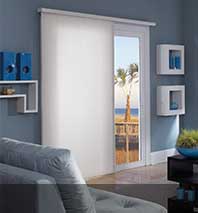 Consider your ultimate objective when designing your door window treatments. Door window treatments are going to break down into two main categories: sliding glass doors or French double doors and single doors with window features. Typically, there are three components to think about when designing the perfect door window treatment.
First, it will need to be functional. Flowing cloth drapes and lacey sheers might look wonderful, but it's no good if fabrics and cords are getting caught in the sliding doors. Additionally, the window treatment can't interfere with entering and exiting, which can be especially noticeable with sliding glass doors. Second, if your door has glass panes, you're probably thinking about privacy. Especially if your door faces a high traffic pedestrian area, you'll want something to obscure your interior from passers by. And thirdly, a window treatment for your door is an excellent opportunity to explore temperature control innovations in window blind technology.
Cellular shades and wood shades are both effective when it comes to trapping warm air inside and keeping cold air out. Most likely your window treatment will need to be a custom job, whether it's for the large glass panels of a sliding door or a small peephole window in your front door. Consult a customer service representative to learn more about translating your dimensions into physical blind hardware. If it's double-paned sliding doors, vertical aluminum blinds are also incredibly popular. Vertical or horizontal blinds can be installed in two segments, allowing the access door to be unobstructed even when the stationary pane is covered.